With the metamorphosis of UFC from entertainment to a certified sport, many modern day Mixed Martial Arts (MMA) gyms offering UFC training programs have sprung up over night.
Are you looking for the best UFC training or Best MMA workout program? Presenting "The Ultimate MMA Strength and Conditioning Program"
Experts suspect that the cultural trend originated because people became aware of the dual mind/body benefits offered by MMA. People began to realize that not only does MMA provide rock-hard muscles, weight loss and an overall increase in strength and stamina, but also a myriad of mental benefits. While it is mainstreamed as self-defense, MMA does not encourage violence; rather, it teaches anger management–utilizing self-control and restraint while achieving the best physical shape possible.
A word to the wise: if you are not seeking to push your body to its full potential, an MMA training program is not for you.  Always make sure you follow a reputable program, or a set of routines presented by a professional instructor. If you are training outside of a MMA or UFC gym, I recommend the following 2 courses:
(The BJJ Course by coach Keith Owen is SICK!)
UFC training for strength highlights core movements or ground-based lifts: cleans, squats, dead lifts and bench presses. Perfecting these techniques will help with resisting wrestling takedowns and delivering strikes.
UFC training for conditioning involves exercises such as interval sprints, combination lifts, sled dragging, circuits, and speed ladder work prevents tiring too quickly. UFC isometric training for muscle endurance consists of the "push-away" and the isometric push up.  Yet another key feature of the total training program is wearing a mouthpiece that causes restricted airflow, replicating actual fight conditions.
Aside from these routines, nutrition is always taken into consideration. Carbohydrates, good fats and protein intake are important and should be kept high to boost large amounts of energy while training. Along with a good nutrition, a proper mental approach is vital.
A combination of these routines will develop strength, endurance, stamina, power, balance and flexibility. Proper training and workout methods go hand in hand with a highly skilled MMA instructor or workout course.
Watch UFC Hall of Famer Randy "The Natural" Couture show you an Extreme MMA circuit!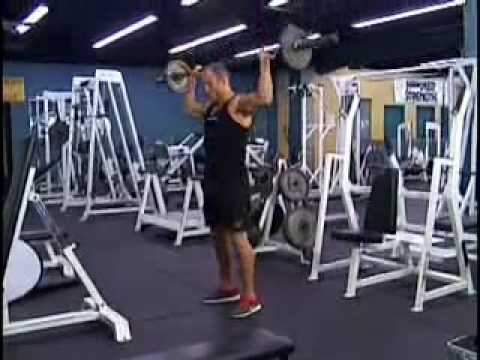 Unlike one-dimensional gym workouts, Mixed Martial Arts offers improvement of the body and the mind together in one concentrated activity. Many people who utilize Mixed Martial Arts are just like you.  If your goals are simply to lose weight, develop strength and improve stamina while getting into shape, MMA training drills will get you there.
Whatever your purpose may be—whether to learn self-defense, increase mental discipline, or simply to achieve the best mental and physical dicipline of your life–no one is too old to start "UFC training."
I have done this course, and believe me when I tell you, it will change your life! watch trainer Eric Wong in action as he shows you some of the program's routines.
Watch Trainer Eric Wong in Action
CLAIM YOUR COPY of The Extreme MMA Workout TODAY!
More than half the battle is taking ACTION! To your success and to your ideal physique my friends
Go from Getting into UFC training to UFC Training's homepage