Ultimate Fighting Championship's (UFC) elite coaches will tell you the best way to "feel" an opponent and get ready for a fight are by sparring and having a solid strength and conditioning regimen.
Nothing will better simulate taking on an opponent and reacting to their moves better than by working on the situation with another fighter.  UFC coaches know that your time in the weight room should be spent developing your power, endurance, and strength.
Former UFC middleweight champion, Rich Franklin's strength and conditioning coach Mike Ferguson shared: "If Rich fights 5 five minute rounds, we will go 10 five minute or 10 ten minute rounds, so he never ever gets tired."
Mixed Martial Artists require a lot of training in different disciplines to be competitive in the sport. Some would argue that UFC fighters are the best athletes in the world due to the many hours spent in the gym working on wrestling, boxing, Muay Thai, jiu-jitsu, lifting weights and conditioning.
"You can be the most skilled fighter in the word, but if you tire after just a few minutes, you will lose the fight", said UFC Hall of Famer Randy "The Natural" Couture. This is why a lot of fighters put a major emphasis on strength and conditioning programs as they commence training camp to prepared for a fight.
Brock Lesnar–former WWE wrestler and UFC heavyweight champion—is a great example of this premise. It's safe to say that Lesnar is not the most technically gifted fighter; however, his strength, power and agility are miles ahead of most heavyweights.  He was able to control and beat former Pride FC veteran, Heath Herring at UFC 87 on only his third professional MMA fight.
Another great example took place at UFC 58 when Georges St. Pierre took on BJ Penn. The Hawaiian undoubtedly showed he had the far superior strikes that night, forcing St. Pierre to take the fight to the ground. Penn was able to stop the initial takedowns, but it was St. Pierre's strength against the cage that enabled him to muscle "The Prodigy" up off the floor and put him on his back in the later rounds and control the fight.
"It takes a lot of strength, conditioning and power to give your body the horsepower it needs to finish shots like that late in a fight." commented St. Pierre's strength coach, Jonathan Chaimberg after the fight.
Learn more MMA/UFC Training Techniques HERE.
Check out former UFC middleweight champion, Rich Franklin's strength and conditioning training: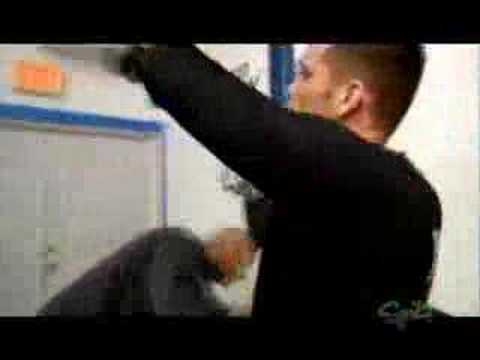 CLAIM YOUR COPY of The Ultimate MMA Strength and Conditioning Program TODAY!
More than half the battle is taking ACTION! To your success and to your ideal physique my friends